Mission
Kindred's initiative is to provide international and domestic adoptees and their families (both adoptive and biological) with services such as travel, translation, and support for those who wish to reunite; easily accessible hotlines; introduction to art and encouragement of artistic expression; and programs set in native countries to aid orphans living within the foster care and government systems. No matter how big or small the need, the foundation's goal is to aid adoptees and their families in finding stability and happiness.
Love and family is extendable not only to those with whom we share our DNA, but to whomever we choose to accept into our lives.
Kindred: The Foundation for Adoption
is an American foundation created by adoptees Samantha Futerman and Jenna Ushkowitz.
In 2013, Samantha and Anaïs Bordier discovered that they were identical twin sisters separated at birth. When their story garnered worldwide attention, the twins heard countless stories about the joys and hardships experienced by fellow adoptees. Samantha knew she needed to use her new insight to aid adoptees and their families in a myriad of situations. She then reached out to fellow Korean American adoptee Jenna Ushkowitz for help.
From an early age, Samantha and Jenna possessed a unique bond as they grew up auditioning as actors alongside each other in New York City. Discovering their shared status as young female adoptees in the entertainment business, the girls developed an enduring friendship. Jenna enthusiastically joined Samantha to co-found Kindred, beginning their journey into advocacy for adoption.
Samantha | Co-Founder
Samantha Futerman is a Korean American adoptee. Born in Busan, South Korea, Samantha was adopted by a loving family in Verona, New Jersey through Spence Chapin Adoption Services and the Social Welfare Society. She was raised with two older brothers, her parents' biological sons.
Samantha began performing during her childhood and continued to pursue her talents while attending high school at the Professional Performing Arts School in New York City, and eventually graduating with a BFA in Theatre Arts from Boston University. In 2011, Samantha moved to Los Angeles to further her acting career. Her entire life changed in February of 2013 when she discovered that she had an identical twin sister. This remarkable experience ignited a desire in Samantha to explore the world of adoption by assisting fellow adoptees and their surrounding communities. Growing up without the insight of other adoptees, she wanted to share a positive outlook on adoption and explore the ways in which family is deeper than DNA.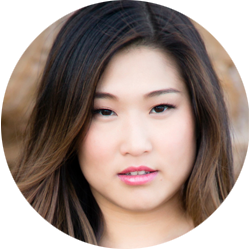 Jenna | Co-Founder
Jenna Ushkowitz is a Korean American adoptee from Seoul, South Korea who was adopted at 3 months old through Love the Children Adoption Agency. She grew up in East Meadow, New York with her parents Brad and Judi Ushkowitz, and an older brother, Gregg. As a child, Jenna worked in the entertainment industry acting in commercials, Broadway and television. She attended Holy Trinity High School, known for its prestigious theatre program, and graduated from Marymount Manhattan College in 2007 with a BA in Theatre Performance. After performing in Broadway's "Spring Awakening," Jenna landed a role on the hit show "Glee" in 2008 and moved to Los Angeles to pursue her dreams in television and film. In 2014, Jenna was approached by friend Samantha Futerman with an amazing story on her own adoption. Knowing that not all adoptees had the same comfortable experience as herself and Samantha, the women felt compelled to take action by creating an inspiring resource for other adoptees so they know they are not alone, no matter what their personal journey has been.
We all have an adoption story, don't we? Most of us understand that family isn't only defined by blood. Family is the place where we are fully known, fully loved. I've experienced this in many forms and have learned that sometimes even your blood relations can fully know you and not love you. I may be a birth mother in the adoption triad but I have experienced the joy of being accepted and appreciated for who I am by people who have no obligation to love me. I was asked to speak at a fundraising banquet for the adoption agency that helped me find a family for my daughter. The banquet room was filled with over 400 people and I was overwhelmed. I was overwhelmed not by the eyes or judgements of those who might hear me share such a vulnerable story about my life. I was overwhelmed by how many people supported children… how many people supported me. It might come as no surprise to you to hear that birth mothers and birth fathers have the least amount of support in the experience of adoption. Whether your parental rights are given away by choice or taken away by force, the grief you feel as the void in your heart remains ever present is not met with much support on the back end. Yes there are support groups for birth parents, though not many. How many birth parents do you think actually want to attend a meeting where they have to admit that their children were taken away from them? Even an adoption by choice leaves a birth parent...