By Madeleine Melcher
Originally posted on Huffington Post 
Disclaimer: I am but one person with my own experience. Adoptees are human beings, so of course our feelings and experiences vary from black to white to every shade of gray. I cannot and do not speak for everyone, but will always stand up for everyone to have a chance to speak.
When I was a baby, I lived in a car for a time. My birthmother left me behind one day and did not return. I was adopted when I was a little over a year old. Adoption is how I came to be with my family. I know people in supermarkets and school registration lines always seem to have a lot of questions when they see a family that was obviously built through adoption, and I certainly get a lot about mine, so in case you were wondering and because I have shared it with people since I was very young, this is what I want you to know in response to years of questions.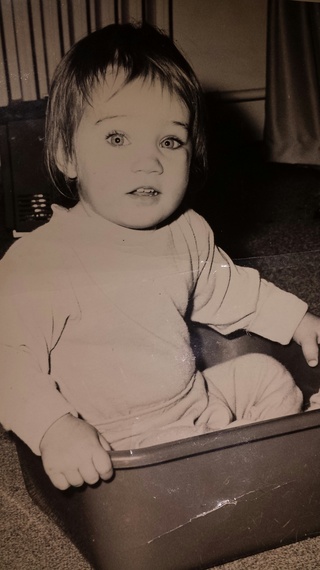 1. Foster kids are not like the foster kids you see in the movies.
Yes, I was in foster care for a while, but I do not have red curly hair, a really furry dog or a gang of plucky girlfriends who can sing. Foster kids are kids. They are not damaged goods. They are children who have endured hardships that many of us cannot imagine; children who deserve safety, security and love. There are thousands of these sweet faces who "age out" of the system at age 18, still without a family to call their own. We ALL need a family. At 42, though she is with God now, I STILL need my mom. I still want somewhere to go for Thanksgiving. I want someone who cares if I have taken my vitamins or who always has a place for me. Don't we all? The difference is that you and I HAVE that. It's likely we take it for granted. These children still want and need a family.
2. Adoptees have different feelings about their own adoptions. I have never questioned why my birthmother left me behind that day. I am thankful, and in a time when many say adoptees should not be and don't have to be thankful, that is the best word I have for it. Adoption is where my family came from. Where my love and my life truly began. Some adoptees will always feel the loss of their biological family or the life they might have known and choose not to be "thankful," and that is their prerogative.
3. Adoption is not something that should be a secret or something that anyone should be ashamed of. I think that is why it has never been a big deal for me. I have ALWAYS known I was adopted. It's never been anything more than the way I came to be with my family. If you always know, then it just IS — there is never a feeling that someone kept something from you. For me, it is as normal as having a belly button; it has always just been there. If you are a parent through adoption, tell your child FROM THE START. Be honest and always keep the lines of communication open. And remember, an adoptee's story is theirs. If you are a parent through adoption, you have a great responsibility to let it be that way, and strangers and even friends must understand that they may not know every detail.
4. Adoption is NOT a second-best choice for family building; it is just another avenue. Not everyone who adopts suffers from infertility. I assure you, though I was adopted and my sister was not, I was never second best. My mother was no less a mother, nor I less of her child, because I was adopted. I was no less of a pain in the butt through my teens or no less sweet and loving as a toddler. She was no less present and would have taken a bullet for either of us. The time, the attention, the love — all the SAME. I am not #2!
5. Some adoptees say, "I was adopted," and others say they "are"; either way, we are many other things, as well. I do not wear a badge that says, "HELLO MY NAME IS MADELEINE AND I AM AN ADOPTEE." I want you to know that I WAS adopted. I am a million other things besides an adoptee, and I am not defined by it. It is just ONE part of my story, just as it should be for all children of adoption. Please never refer to a child who was adopted as "the adopted child." He or she is a child. In their mind, today, they might be a cowboy or a ballerina. When they grow up, they might be a doctor, a parent, a friend, a dog lover and a basket weaver. Let them be the million other things as well.
6. While it is not right to judge or to quantify what type of adoption is best, it will happen; others seem to always have an opinion. Whether it is foster care, domestic infant adoption or international adoption, if it was done to provide a loving home for a child, it is a good thing, and that is all that matters. No doubt parents through adoption will continue to be asked if they adopted from the same agency as Madonna or how much their baby cost, but people are curious, sometimes ignorant and other times just without manners. There will ALWAYS be people who judge you, whether it is regarding your sexual preference, choice of hairstyle, your neighborhood or how you choose to decorate your lawn for Christmas. People will judge, and adoption is no different. Remember: No matter how you built your family, YOUR family comes first — ignore other people's judgments.
7. Some adoptees really need to find their birthparents to find closure, or maybe a new beginning — but not all. I have never met my birthparents and never have truly considered looking for them. This is what everyone seems to want to know about when they hear I am adopted. I am not a living Lifetime movie. I have been curious, but have never had the aching need to search. I hope my own birthmother has peace and even a portion of the happiness I have known in my life. Other adoptees seek out their birthparents out of a sincere need to create a relationship. Adoptees are entitled to whatever feelings about their adoption they have. We cannot be put in a box; adoptees are individuals and all have our own thoughts and feelings.
8. Parents' words and reactions are important. Some children become available because of a loving, thoughtful choice by their birthparent(s) at birth, others because their parents have failed them in some way. Whatever the reason, if your children came to you through adoption, do not ever badmouth their birth family. Your child may feel it is a judgment on who he or she is if you do. If my mom was ever asked offensive questions, I never knew. Be the grace. And for heaven's sake, if you are a family member or friend or just chatting with someone, please stop and think before you say something inappropriate in front of a child.
9. Real is not defined by biology. My Mom IS my REAL mom. She dealt with tears over math homework and finding prom dresses, and came running when I fell off my bike and picked the gravel out of my knees. She listened as I poured out my heart over the stupidity of teen boys and loved me beyond my biology. Mommies through adoption ARE real moms. Daddies through adoption ARE real daddies. Real in every way. REAL is not defined by DNA, it is defined by L-O-V-E.
10. Adoption is often predicated on some kind of pain or loss. The pain of a birthparent and whatever led them to placing their child. The trauma of a child who has known things in their life that no child should. The poverty and loss of life in other countries. These wounds are not caused by adoption; adoption is often the best solution to very difficult issues.
11. Parents: there is no voice on or about adoption that is more important than YOUR ADOPTEE'S. I think people make a much bigger deal about adoption than they need to. When I was growing up, it just WAS. I had my adoption day celebration each year and that was that. I knew my mom was there if I had questions and that she would be honest with me. We did not have to make a huge "to do" about it, though I know my parents would have done whatever I needed if I had needed more. It was not pre-determined that I would automatically suffer from any number of issues relating to my adoption. I was just a normal kid and sometimes I think even some parents through adoption have a hard time accepting that. If you are a parent through adoption, listen to YOUR CHILD, because ultimately, with all the voices you will hear about adoption, theirs is the most important. Let your child be your guide.
So, when you hear that someone was adopted, or notice because they look different from the rest of their family, know that so many of the stereotypes about adoption are not true. That we did not just step out of a made-for-TV movie. We are individuals and don't all feel the same way. We are REAL people with REAL families, and there is so much more to us than having been adopted. And parents, love your child and meet his or her needs, adoption-related or not, because that is what parents do.